High Temperature Resistance PTFE Teflon Fiberglass Adhesive Tape
xinstDec 02, 2021
PTFE Teflon adhesive tape has a smooth surface, good adhesion resistance, chemical resistance, high temperature resistance and excellent insulation properties. It is widely used in packaging, thermoplastics, composites, sealing and heat sealing, electronic appliances and other industries. The fabric-reinforced PTFE Teflon tape has the characteristics of high strength. It can be used in industries such as the drum of the sizing machine and the thermoplastic film. It can be used repeatedly and is easy to replace.
Model NO.: 6001~6025
Strength Resistance: Strong
Trademark: kaicheng
Transport Package: Cartons
Specification: max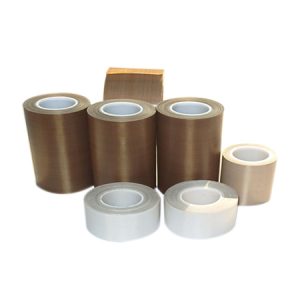 PTFE Coated Fiberglass Fabric Series
We use best imported Fiberglass as the weaving material to plain knit or specially knit into superior fiberglass basic cloth,by the unique technology, full immersion, impregnation, coat it with fine PTFE resin then make it into various PTFE Teflon high temperature resistance cloth in different thickness and widths.
Features of PTFE Teflon Tape:
1. stable dimension, high intensity, elongation coefficient less 5‰
2. good temperature resistance, 24 hours working temperature -70-260oC,Used between low temperature -196℃ and high temperature 300℃, it has weather resistance and anti-aging.
3. low coefficient of friction and dielectric constant, good insulating ability
4. Non-sticky, easy to clear stains and adhesives on the surface
5. good chemical resistance, it can resist all most of chemical medicines, acids, alkalis, and salt, it is fireproof, lower in aging.
Applications of PTFE Teflon Tape:
1.used as various of liners to resist high temperature, such as microwave liner, oven liner, or other liners.
2.used as non-sticky liners, cloth and so on.
3.According to the different thickness, used for a variety of drying machinery conveyor belt, adhesive tape, sealing tape, etc.
4.used as covering or wrapping material in petroleum, chemical industries, as wrapping material, insulating material, high temperature resistance material in electrical industries, desulfurizing material in power plant etc.
If you are interested in our products please subscribe to our mail