Single side Removable Double Sided Adhesive Tape
xinst7月 25, 2020
Xinst29000BM PU Micro Suction Foam Tape TDS
Xinst29000 PU Micro Suction Foam Tape is use imported black PU glue raw
materials, one side(Permanent sided) stick strong PET film double-sided
adhesive for fixing paste,the other side(Removable sided) for attaching your
phone,can repeatedly paste,without leaving any traces. MATERIAL:
Adhesive: Acrylic
Foam: Black PU foam
Liner: PET Film/Paper
Color:Black/Clear
Total Thickness:0.2mm/0.5mm/0.8mm/1.0m/2mm/3mm,and so on. Permanent Sided Adhesion:>1200 g/25mm
Micro Suction Sided Adhesion:400-800 g/25mm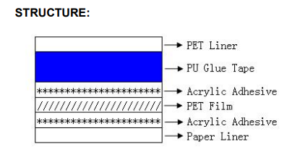 Removable tape is made from PET film /PE foam as carrier, single side or double sides coated with solvent acrylic base and white release paper. The removable tape is for temporary mounting and
attachment. For double sides, the liner side can be removed with no residue while the exposed side with permanent adhesive.
Features:
Excellent for papers, plastics and films, especially for bonding materials on rough surfaces; Easy to remove; Leaves no residue; Clear film with adhesive on single side/both sides; Excellent UV resistance;
Resist temperatures from -20°C to 120°C.
Main usage:
This Removable tape can be widely used for removable labels and stickers, temporarily seal bags or bond paper, and attach labels and photos to bins and displays. Reclosable adhesive for poly bags,
envelope flaps and point of purchase displays.
USAGE:
1)Permanent sided works well with plastics. 2)Micro Suction sided leaves no residue,can reused more than 500 times.
Our Factory Competitive Advantages:
Well Competitive Prices and High Quality Control
Prompt Delivery
Earth-friendly Products
In a Variety of Design
Small Order Acceptable
OEM Accepted
Roll Size: 3″ paper or plastic core;tape width: 2mm -1200mm; standard width: 1200mm,standard length:50M
OEM Size:Special length, thickness or combinations can be supplied per customer's request.Products can be supplied in roll,
tape,sheets or shapes per customer's request.Only you provide the CAD drawing,we can die cut any size for you.
Shelf Life: To obtain best performance, use this product within 12 months from date of delivery and store under normal conditions of 60 ºC to 80ºF (16 ºC to 27ºC) and 40 to 60% R.H. in the original carton.
If you are interested in our products please subscribe to our mail