call on order +86 137 6041 5417
3M8805 3M8810 3M8815 3M8820 Thermally Conductive Adhesive Transfer Tapes
• High mechanical strength
• Improved surface wet-out for rough surface/LSE substrates
• Excellent shock performance
• Wider and longer roll is available
• Halogen free*
• Ideal for thin bonding applications
• Good thermal transfer
3M8805 3M8810 3M8815 3M8820 Thermally Conductive Adhesive Transfer Tapes
3M8805 3M8810 3M8815 3M8820 Thermally Conductive Adhesive Transfer Tapes For Fans, Heat Spreaders Or Heat Pipes
3M Thermally Conductive Adhesive Transfer Tapes 8805, 8810, 8815 and 8820 are designed to provide a preferential heat-transfer path between heat-generating components and heat sinks or other cooling devices (e.g., fans, heat spreaders or heat pipes).
Thermally Conductive Adhesive Transfer Tape Features:
• High mechanical strength
• Improved surface wet-out for rough surface/LSE substrates
• Excellent shock performance
• Wider and longer roll is available
• Halogen free*
• Ideal for thin bonding applications
• Good thermal transfer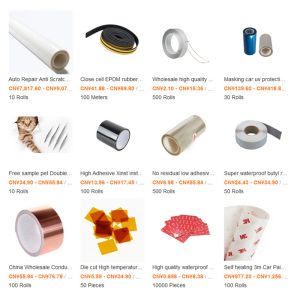 If the 3M8805 3M8810 3M8815 to your requirement, please be free to buy the quality products made in China with our professional manufacturers and suppliers in China. We're equipped with a productive factory at your service.
FAQ
1)How to order from xinst?
Just send us email or call us.
2)Do you offer the free sample for testing?
Yes, we offer the sample free, but you courier charges.
3)How to ship the order?
We will suggest you the appropriate way of shipment, by sea, by air or by courier. Of course if you will have your own forwarder, that is no problem.
4)Can we trust the quality of product from Xinst?
Sure, do not worry about that. Our quality wills absolutely compliance to the sample we send. If not, we will take charge of that.
5)What payment Xinst accepts?
For the small quantity, we request 100% advanced TT payment; other conditions, negotiable. Sorry, we did not accept the Credit card for the time being.
6)How about the lead time of per order?
If the tape you order have stock, we can ship out within 1~3 days. If there is no stock, you need to wait about 5~12 days. If you are request the die-cuts, the time shall longer.
Applications:
Battery Thermal Management, Flex Bonding, Heatsink-Thermal Interface Attachment, Heatsink-Thermal Interface-Non Bonding, IC Packaging Heat Conduction, LED Lighting Thermal Management, Thermal Interface-Damping-Cushioning
Constructions:
Physical and Performance: