call on order +86 137 6041 5417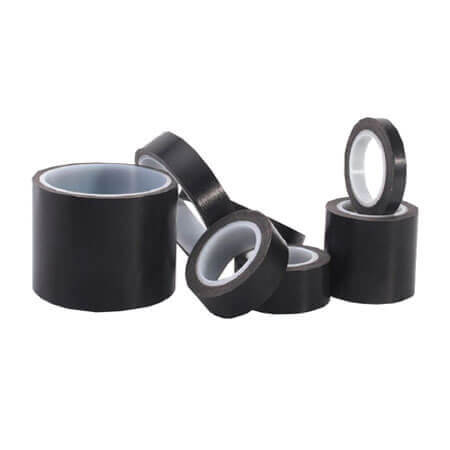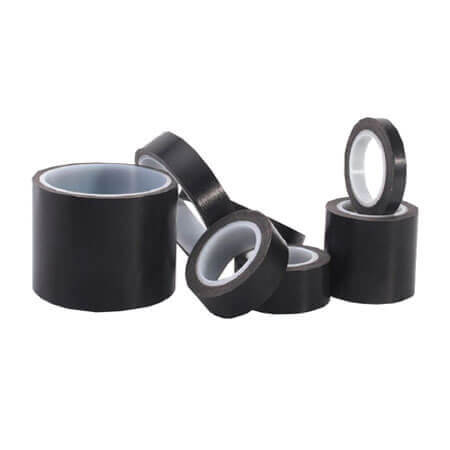 Black PTFE Fiberglass Cloth Tape
Total Thickness: 0.18+0.01mm
Color: Black
Tensile strength: 550+1N/25mm
Stretched efficiency: 3+0.05%
Rewinding force: 7.6N/25mm
Min Order Quantity: 1000 Square Meters
Supply Ability: 15000 Square Meters
Port: Shenzhen, China
Payment Terms: T/T, L/C, Paypal, Western Union
Delivery Time: About 10-15 days
Black PTFE Fiberglass Cloth Tape
Black PTFE Fiberglass Cloth Tape, PTFE (Teflon) Coated Fiberglass Tapes with silicone adhesive backing is made from a very tight black woven fiberglass cloth that has been heavily coated with PTFE/(polytetrafluoroethylene) and has a high-temperature, pressure-sensitive silicone adhesive applied to one side. It is a higher temperature range. It has two types: one has a lining, the other hasn't.
Fiberglass Cloth Tape Features:
The using temperature is between -60ºC -260ºC, weather-resistant & anti-aging.
Non-Adhesive: The surface is smooth, not easy for adhesion. Easy to clean the surface oil, stain, or other attachments.
Resistant to strong acid, alkali and various kinds of organic solvent and chemical etching.
Non-toxic, drug resistance. Almost resistant to all pharmaceutical items.
Good insulation, prevent ultraviolet, anti-static.
Fire retardant.
Resistant to tearing, puncturing and abrasion.
Easy to use, long service life.
Packaging Details:
Export standard packing for Black PTFE Fiberglass Cloth Tape. (If customers have special requirements, we also can make accordingly.)
Our Factory Competitive Advantages:
Well Competitive Prices and High Quality Control
Prompt Delivery
Earth-friendly Products
In a Variety of Design
Small Order Acceptable
OEM Accepted
Note: All data contained in this document base on china standard test method, they are average values, they should not be used for a specific purpose. All statements, technical information, and recommendations contained are base upon tests that we believe are reliable, but we strongly recommend clients should do their own tests and decide whether the product is fit for a particular purpose or the method of application.
These product properties are suggestive and all products can be customized or converted to fit specific application requirements. Please contact us to discuss your unique application needs.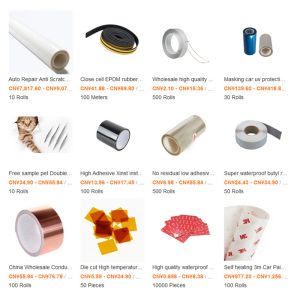 If the Black PTFE Fiberglass Cloth Tape to your requirement, please be free to buy the quality products made in China with our professional manufacturers and suppliers in China. We're equipped with a productive factory at your service.
All kinds of the high temperature of roller coated, heating plate, off- membrane, thick liquid yarn machine' off-membrane drum, thermoplastic demolding and other off-membrane industries.
Food, dairy products, pharmaceuticals of plastic film bags hot sealing pressure sticky.
The sliding channel, hopper, aviation mould etc liner paste.
Suitable for other places which need anti-metal and keeping a smooth part. E: corrosion resistance and high-temperature resistant surface treatment
As insulating liner, insulation parts of the insulation encapsulation etc.
Used for various fine pressure roller coated machine, the surface of laminating content.
Item
Unit
Performance Data
Construct
glass cloth T
mm
0.13
Silicone T
mm
0.05
Total thickness
mm
0.18+0.01
Inner paper core
mm
76+1
Color
Brown
Black
√
√
Tensile strength
N/25mm
550+1
Stretched efficiency
%
3+0.05
Peel adhesive force
To stainless steel plate
N/25mm
7.5
To itself back
N/25mm
5.9
Rewinding force
N/25mm
7.6
Surface resistance
Ohm
10 e14
Insulation breakdown voltage
KV
3
Heat resistance
-
Good
Fire resistance
Qualified
Glass cloth Temperature Resistance
℃
280
Silicone Temperature resistance
℃
280
Continuous use temperature range
℃
-60-280