Application of various tapes in mobile phone structure
xinstJul 03, 2021
Adhesive tape applications in smart mobile phone:
Structural bonding
Screen fixed
Optically transparent paste
Film and graphite sheet pasting
Component fixed
Sealing and cushioning
Bonding and separation
Shielding and grounding, etc.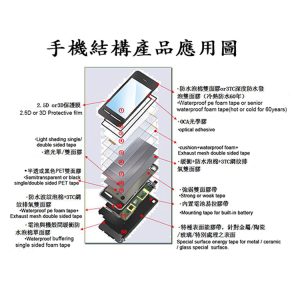 Smart mobile phone is becoming thinner and more sophisticated. The complex design requires the reduction of the bonding area, not only requires the tape to have excellent adhesion and shock resistance, but also has good durability and weather resistance to various surfaces. To improve equipment stability.
Examples of structural bonding applications:
* FPC hardening
* Frame fixed
* Shell assembly
* Magnesium bracket fixation, etc.
Need to use tape: Non-woven tape, PET tape
Screen fixed
Many applications for screen fixation place high demands on tape. Due to frequent use, electronic devices equipped with LCD or OLED displays must have excellent drop resistance and impact resistance under any circumstances. In addition, it also needs to have some other important functions, such as waterproof, anti-light leakage, and resistance to skin-related chemicals such as sweat, oil, and body lotion.
Examples of screen fixation solutions:
* Window fixation
* Frame fixed
* Touch panel fixed
* Fixed display
* Rear cover fixing, etc.
Tapes that need to be used: PET film tape, non-woven tape, ultra-thin non-woven tape, PE foam tape
Optically transparent paste
Since the display screen and touch panel contain many different designs, the optically transparent pasting of the display screen and touch panel requires highly transparent, low haze and anti-ultraviolet tape products.
Examples of optically transparent pasting applications:
* Attach the film to rigid or flexible materials
* Paste two pieces of rigid material
* Bond the touch panel to the cover glass
* Glue the display to the cover glass or touch panel
Need to use tape:OCA optical tape
If you are interested in our products please subscribe to our mail