Die cut material: How much do you know about PORON foam
xinstNov 18, 2020
ROGERS CORPORATION is a world-renowned material provider. By providing advanced material technology, application knowledge and global production and design collaboration, it promotes continuous breakthroughs in reliability, efficiency and performance in the field of materials. PORON series products are made through a special patented process of mechanical foaming. The unique microporous open cell structure makes it have excellent resistance to compression deformation, super elasticity and endurance, a wide temperature range, and meets flame retardant and Environmental protection (RoHs, REACH) and other requirements are widely used in household appliances, electronics, aerospace, automotive, telecommunications and other fields.
Products usually have the following advantages: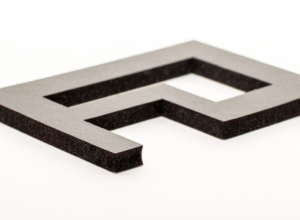 1. Excellent resistance to compression and deformation, giving it long-lasting sealing and cushioning properties;
2. Low outgassing and non-atomization, no plasticizer or residual polluting chemical substances;
3. The material itself will not be broken due to brittleness, and does not corrode metals;
4. The material itself has flame-retardant properties and no additives are used. Most of the materials meet the flame-retardant requirements specified by UL HBF and MVSS 302;
5. The specially designed polyurethane formula provides a wide range of modulus for various design requirements-2-90psi@ 25% deformation;
6. Good chemical resistance;
7. Easy to process, clean die-cutting, and can be used with a variety of adhesives;
8. Various thicknesses and various formulations from 0.012" to 0.500" (0.30 mm to 12.7 mm).
Common "black technology" products in PORON foam die cut series
Condux Plus conductive foam
The slimmer the handheld device, the more complicated its design. The complex design brings unexpected circuit grounding and shielding problems, and a solution that can be overcome immediately is required. Condux Plus foam has ideal electrical conductivity, excellent mechanical properties and super shielding capabilities, and is suitable as a reliable grounding pad in mobile Internet devices (MID).
PORON AquaPro 4701-37
The AquaPro series have high waterproof sealing performance and durability, and provide better protection against water ingress. Among all PORON waterproof sealing formulas that achieve tight sealing, the newly developed AquaPro 37 formula requires the least compressive force.
PORON AquaPro 4701-37 Thin
AquaPro 37 extremely soft material provides better long-term waterproof protection for sensitive electronic products and enclosed devices. The standard thickness range is 0.020" to 0.039" (0.50mm to 1.0mm).
PORON EVExtend
The growing electric (EV) and hybrid electric vehicle (HEV) markets have enabled significant breakthroughs in battery technology. These breakthroughs have also brought new challenges for protecting and extending battery life. PORON EVExtend is specifically designed to solve the challenges of electric and hybrid vehicle batteries.
PORON ShockPad foam
PORON ShockPad foam is a reliable shock-resistant solution that can be used behind the display of a gasketless mobile Internet device, in front of the printed circuit board, and around other internal components.
PORON ShockSeal foam
As consumers' demand for thinner, larger and more expensive LCD display devices continues to grow, designers and manufacturers are facing increasingly complex technical challenges. PORON79 series foam is specially designed to meet the buffering, sealing and protection needs of large-screen display equipment. The thinnest PORON79 series foam can provide a thickness of 0.5mm, which can be very conveniently used for smaller and more complex manufacturing designs.
If you are interested in our products please subscribe to our mail