Glass fiber cloth thermally conductive double-sided tape
xinstMay 25, 2020
Glass fiber cloth thermally conductive double-sided tape (www.szxinst.com): It is based on glass fiber cloth, PET, PVC film, non-woven fabric, etc., and is evenly coated on both sides with elastomer pressure-sensitive adhesive or resin type pressure. Sensitive adhesives, acrylic pressure-sensitive adhesives, etc., are roll-shaped or sheet-shaped adhesive viscosity tapes made on the above-mentioned substrates, which are composed of the substrate, adhesive, and release paper (film).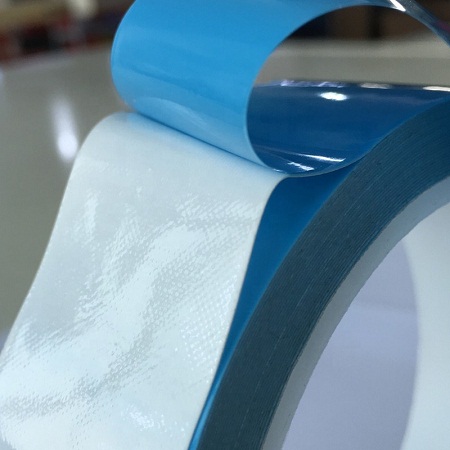 characteristic:
Thermal conductive double-sided adhesive tape can be immediately bonded with light pressure; the bonding performance and bonding strength increase with time and temperature.
Thermally conductive double-sided tape can be die-cut products of any shape, and can be pasted on a surface in advance for future adhesion.
Glass fiber cloth tape Application:
Thermally conductive double-sided adhesive tape Used for bonding of chips, flexible circuit boards, high-power transistors and heat sinks or other cooling devices. Such as:
High-power LED lighting aluminum substrate and heat sink adhesive installation
CPU cooler
LED backlight module TV
Install elastic heating sheet
Install temperature display film
Install thermoelectric cooling mold
Bonding of radiator to microprocessor
Bonding of flexible circuit and heat sink
Bonding of power transistor and right printed circuit board
Long-term spot supply of the following products of the US 3M:
3M double-sided tape, tissue paper tape 55230, 55230H, 55231, 55235, 55236
3M double-sided tape, PET tape 55256, 55257, 55258, 55260, 55261, 55262, 9178
3M double-sided tape, PVC tape 55280
3M thermal interface materials 8805, 8810, 8815, 8820, 9889FR, 5506, 5591S, 5503,
3M conductive pure glue film 9712, 9713, 9719, 9703, 9705, 9708, 9709
3M electromagnetic shielding tape: 9712, 9713, 9719, 7761, 7763, 7765, 7805
3M ACF anisotropic conductive film: 5363, 5552R, 7303, 7313, 7371, 7393, 8794, 7378, 7376, 9703, 9705
3M high temperature tape 851, 1278, 1279, 1280, 5413, 7414, 5414, 5419, 5433, 7413, 7419, 7413, 7412, 851ST, 852ST
3M optical transparent tape 8212, 8211, 8161, 8185, 8187, 8171, 8172, 8271, 8272
3M Water Indication Label Products 5557, 5557NP, 5558, 5559
Shading tape for liquid crystal display and backlight module, black and white tape 4003C, 4003T, 4040, 9583, 4007, 4037, 4037LH, 9582, 4019-50, 4063, 55200, 55201, 4012-50R, 4019-85
Shading tape for liquid crystal display and backlight module, black double-sided tape 9004, 9622, 9632, 936BK, 9313B, 9005, 4362S, 4363S, 4364S
If you are interested in our products please subscribe to our mail