How Good Is High Temperature PET Green Tape?
xinstFeb 28, 2020
What are the advantages of PET high temperature tape?
PET high temperature green tape refers to the base material of the tape is PET plastic film, that is, polyester film. Compared with ordinary OPP tape, it has better strength and temperature resistance, good insulation performance and good temperature resistance. Generally, it is coated with solvent-based pressure-sensitive adhesive, which has strong viscosity and does not leave adhesive.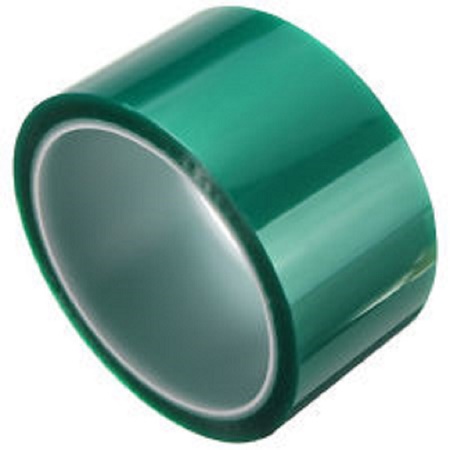 PET high temperature tape is mainly used for the shielding and protection of spray baking paint plating, with a temperature resistance of 200 degrees and a time of 30 minutes, acid and alkali resistance, corrosion resistance, high pressure resistance, and no residue. It is used for various applications such as shielding protection and insulation during high temperature spraying of electronic products, automotive industries, coatings and other products, leaving no residual glue after making. Printed circuit boards, electronic parts, resistors and capacitors are fixed during production; household appliances, machinery, electronics and other industries need high temperature spray paint protection and high temperature binding and fixing. Circuit board wave soldering, reflow soldering or soldering tin protects golden finger parts, the product has passed SGS certification. Specifications: length 33M, 66M, larger width 500MM (can be cut) Total thickness: 0.06mm 0.075mm 0.085mm 0.11mm.
High temperature PET green tape application:
1. High temperature PET green tape can be used for tinning and gold plating of PCB boards;
2.High temperature PET tape can be used for covering high-temperature spraying and dusting of chassis, tempered cup, etc.
3, high temperature PET tape can be used for LED dot matrix blocks, digital tubes, electrical LED display panels and other high-temperature glue masking.
4. High temperature PET tape can be used for high temperature shielding of PCB board;
High temperature PET tape has the characteristics of high adhesion, soft application and re-peeling without leaving adhesive residue. It is the darling of many industries such as electronics and electrical appliances.
If you are interested in our products please subscribe to our mail