call on order +86 137 6041 5417
3M 9990N Repulpable Splicing Tape
Min Order Quantity: 1000 Square Meters
Supply Ability: 15000 Square Meters
Port: Shenzhen, China
Payment Terms: T/T, L/C, Paypal, Western Union
Delivery Time: About 10-15 days
3M 9990N Repulpable Splicing Tape
3M Repulpable Splicing System 9990N is a double-coated, splittable tape construction designed for straight-line flying splices, featuring an acrylic adhesive and an easy release paper liner, with liner scored for easy manual application and a built-in sensor layer.
Splicing Tape Features:
The built-in Aluminum sensor within tape construction eliminates the need for the traditional reflective label needed for splice detection.
The very soft splicing side adhesive is designed for good "instant grab" on uncoated newsprint.
Packaging Details:
Export standard packing for 3M 9990N Repulpable Splicing Tape. (If customers have special requirements, we also can make accordingly.)
Our Factory Competitive Advantages:
Well Competitive Prices and High Quality Control
Prompt Delivery
Earth-friendly Products
In a Variety of Design
Small Order Acceptable
OEM Accepted
Note: All data contained in this document base on china standard test method, they are average values, they should not be used for a specific purpose. All statements, technical information, and recommendations contained are base upon tests that we believe are reliable, but we strongly recommend clients should do their own tests and decide whether the product is fit for a particular purpose or the method of application.
These product properties are suggestive and all products can be customized or converted to fit specific application requirements. Please contact us to discuss your unique application needs.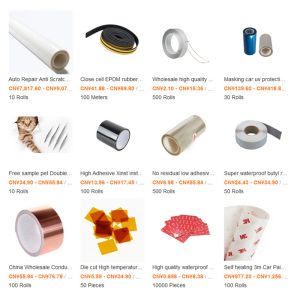 If the 3M9990N Repulpable Splicing Tape to your requirement, please be free to buy the quality products made in China with our professional manufacturers and suppliers in China. We're equipped with a productive factory at your service.
Flying splice of paper webs in newsprint.
Pypical physical properties:
Note: The following technical information and data should be considered representative or typical only and should not be used for specific purposes.
Adhesive Type Splicing side
Blue Acrylic on Aluminum laminate
Adhesive Type Reel side
Clear Acrylic
Tape Color
Blue (splicing side)
White (tabbing side)
Carrier
White splittable non-siliconized tissue/aluminum foil laminate
Thickness (ASTM D-3652)
Before splitting
After splitting
Tape: 5.5mils (0.14mm)
Liner: 2.2mils (0.05mm)
Total: 7.7mils (0.20mm)
Splice side
3.3mils (0.08mm)
Reel side
2.2mils (0.05mm)
Splittable Layer
Splittable layer, recessed 2mm in from leading tape edge
Release Liner
Silicone coated semibleached Kraft paper
Performance Characteristics:
Note: The following technical information and data should be considered representative or typical only and should not be used for specification purposes.
Bonding Strength
Excellent affinity to Cellulose Fibers
Paper weight/Speed**
Lower Paper Wt Test Limits
Upper Paper Wt Test Limits
1.5inch (37.5mm) tape
27.5lb (45g)
1670ft/min (510m/min)
32lb (52g)
1310ft/min (400m/min)
2.0inch (50mm) tape
27.5lb (45g)
2300ft/min (700m/min)
44lb (72g)
1260ft/min (384m/min)