call on order +86 137 6041 5417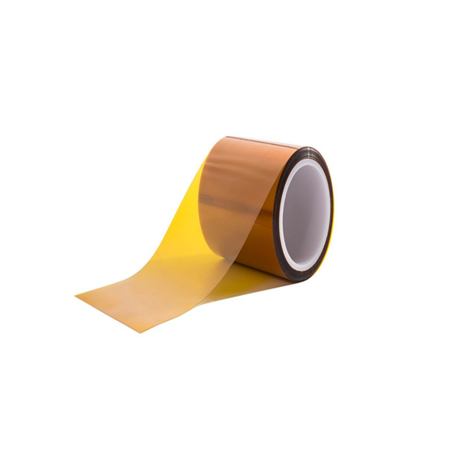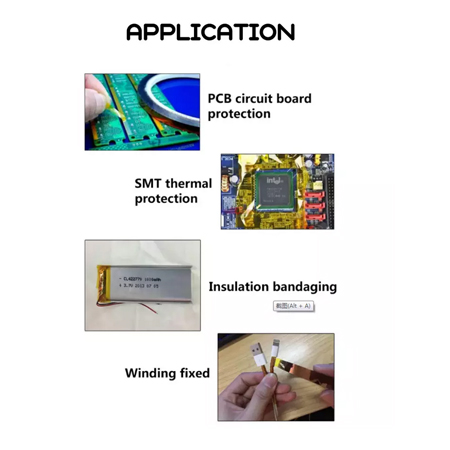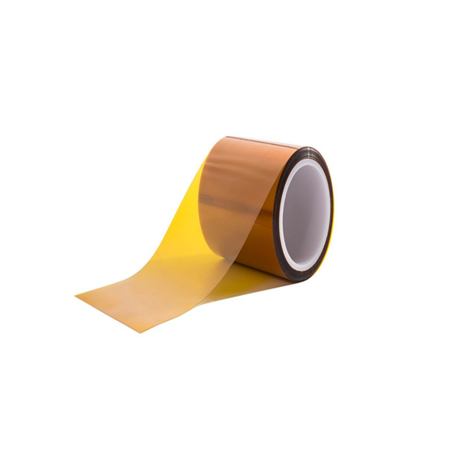 3M Polyimide Film Electrical Tape 92 with Silicone Pressure Sensitive Adhesive
Place of Origin:Guangdong, China
Brand Name:3M
Model Number:92#
Adhesive:Thermosetting Silicone
Adhesive Side:Single Sided
Adhesive Type: Pressure Sensitive, Water Activated
Material:Polyimide
Feature:ANTISTATIC
Use:MASKING
Color:Amber
Width:10-305MM
Length:33m
Size:0.076mm*305mm*33m
Sample:Freely
Thickness:0.076MM
MOQ:500
Brand:3M
3M Polyimide Film Electrical Tape 92 with Silicone Pressure Sensitive Adhesive
3M Polyimide Film Electrical Tape 92 is a 1-mil polyimide film backing with silicone adhesive. Its silicone pressure-sensitive adhesive allows it to be used at
356ºF (180ºC), and it is UL 510 Flame Retardant. Like most insulated tapes, from 3M, Tape 92 is available in standard and custom widths and lengths. The
standard length is 36 yards, and can be cut to widths ranging from 1/4" to 23". Longer lengths up to several times normal length are possible, dependent upon width.
3M Polyimide Film Electrical Tape 92 Features:
♦Powder coating protection
♦Glass sandblasting protection
♦Paint spray protection
♦Ordinary surface protection
♦ Silicone Adhesive Heat Resistant High Temperature Polyimide Tape
♦ High temperature, solvent resistant, stable and reliable
♦ Easy peel off no glue residue
♦ H-class insulation
♦ Suitable for pcb 3d printing and transformer insulation
♦ Strong tensile strength
♦ Offer sheet or roll material or diecut processing.
Our Factory Competitive Advantages:
Well Competitive Prices and High Quality Control
Prompt Delivery
Earth-friendly Products
In a Variety of Design
Small Order Acceptable
OEM Accepted
Roll Size: 3″ paper or plastic core;tape width: 2mm -1200mm; standard width: 1200mm,standard length:50M
OEM Size:Special length, thickness or combinations can be supplied per customer's request.Products can be supplied in roll,
tape,sheets or shapes per customer's request.Only you provide the CAD drawing,we can die cut any size for you.
Shelf Life: To obtain best performance, use this product within 12 months from date of delivery and store under normal conditions
of 60 ºC to 80ºF (16 ºC to 27ºC) and 40 to 60% R.H. in the original carton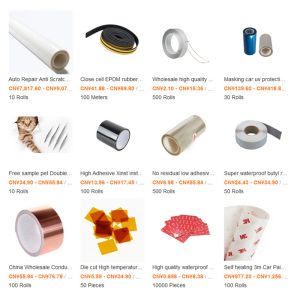 If the 3M Polyimide Film Electrical Tape 92 with Silicone Pressure Sensitive Adhesive to your requirement, please be free to buy the quality products made in China with our professional manufacturers and suppliers in China. We're equipped with a productive factory at your service.
Application:
3M 92 Tape is used for high-temperature electrical applications in which a tough,
thin insulating material is required for wrapping coils, transformers, capacitors,
wire harnesses, and for anchoring leads / terminal boards. It also is used in
printed circuit board assembly as a wave solder masking tape.
Production name

3M 92 Polyimide Film Adhesive Tapes

Material

Polyimide film + Silicone adhesive

Color

Amber

Adhesion to Steel:

Tensile Strength:

115N/25mm

Temperature Resistance:

260°C~280°C

Elongation:

>50 %

Dielectric Strength:

5,000 volts

Usage

It is used as a ground, barrier and phase insulation in high performance torridal coils, high frequency motors. It can be used for end turn bundling and connection insulation in small motors. It is also used for cross-over insulation and out wraps on bobbin wound and form wound coils for large rotating machines to bundle conductors and reinforce insulation and it can also be used as wave solder masking of printed circuit boards.

Feature

♦Powder coating protection
♦Glass sandblasting protection
♦Paint spray protection
♦Ordinary surface protection
♦ Silicone Adhesive Heat Resistant High Temperature Polyimide Tape
♦ High temperature, solvent resistant, stable and reliable
♦ Easy peel off no glue residue
♦ H-class insulation
♦ Suitable for pcb 3d printing and transformer insulation
♦ Strong tensile strength
♦ Offer sheet or roll material or diecut processing.

Advantage

1.Factory supplier: Factory price polymide tape for 3D printer
2.Competitive price:Factory direct sales, professional production, quality assurance,
3.Perfect service:Delivery in time,and any question will be replied in 24 hours

1. We send sample  A4 paper size for free
2. Customer shall bear the freight charges
3. Sample and freight charge just a show of your sincerity
4. All sample related cost shall be returned after first deal
5. It is workable to most of our clients Thanks for cooperation

Sample lead time

3-5days

Port

Shenzhen

Payment

L/C, T/T,Western Union,Paypal,Escrew,Ali payment