DMD F Class Insulation Paper Material die cutting
xinstJun 28, 2020
Basic Info
DMD insulation paper
Model NO.: 6641
Origin: China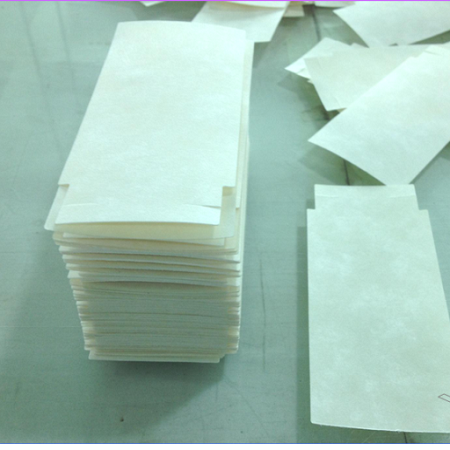 6641 F-DMD insulation paper-polyester film
DMD CLASS-F polyester film flexible composite is made from high melting point polyester film and hot-rolling polyester fiber non-woven fabric. The polyester film and polyester non-woven fabric are bondedd by F-class adhesive.
Temp. Class F( 155 degree class)
Excellent dielectric property, high mechanical strength and immersing the function
As slot, interphase and liner insulations for F-grade motors and electric apparatus.
Availibity form: Roll, sheet, strip
Thickness: 0.17mm 0.20mm 0.25mm 0.30mm 0.35mm
Width: 1000mm Color: Pink, Blue and White
Form: In rolls.
Pacage: Carton and Pallet Storage life---1 year
DMD insulation paper, this product is a composite insulation material product made of a layer of polyester film coated with adhesive, one side compounded with polyester fiber non-woven fabric, and calendered, referred to as DMD.
The polyester film is coated with F-grade adhesive on both sides. The two-layer soft composite material made of polyester fiber paper on both sides has excellent mechanical properties, dielectric properties and adhesion, and is suitable for slot insulation, inter-turn insulation and liner insulation in motors and electrical appliances.
The adhesive used does not contain acid, heat resistance, has good mechanical and electrical properties, polyester non-woven fabric has adsorption capacity, can absorb resin when impregnated. Used for slot-to-slot and phase-to-phase insulation in low-voltage motors, or as interlayer insulation in transformers, with high material stiffness, suitable for mechanical off-line processes
Storage conditions and validity period:
1. The product is stored in normal temperature, 20~80%RH environment.
2. Use the product within 12 months after the production date to get the best performance.
Precautions
The above technical data is the average data obtained by the company through multiple inspections by using the recognized reliable inspection method. However, in order to ensure the correct selection and use of our company's products, please make a detailed understanding and trial of the purpose and conditions of use based on the object you want to use, or notify the company to provide you with further instructions and services.
If you are interested in our products please subscribe to our mail