3M4910 aplicação de fita dupla face
xinst10 de agosto de 2020
3M4910 is a foam-based double-sided tape in the 3M double-sided tape. It belongs to the VHB adhesive system (pressure-sensitive adhesive system). The thickness is 1.0MM. The whole material specification is: 610MM*33M*1.0MM. The color is transparent. , It has super viscosity, good UV resistance, solvent resistance, softness, good conformability, high tensile strength and shear strength.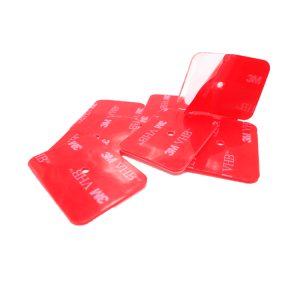 The bonding strength increases with the increase of the contact area between the adhesive and the surface to be adhered. Applying a stable pressure helps the adhesive and the surface to be adhered, thereby increasing the bonding strength.
To achieve the best bonding effect, the bonding surface must be clean and dry. The best temperature range for tape application is 21-38℃. It is recommended that if the initial bonding temperature is lower than 10℃, it is not suitable for bonding. When the adhesive is too hard, it cannot be firmly bonded to the object; however, if it has been bonded, the holding force at low temperature is also satisfactory.
3M4910 double-sided adhesive tape meets the requirements of ROHS regulations in terms of environmental protection, and is widely used in the bonding of various materials such as plastics and metals. It can replace traditional fixing methods such as screws and rivets to improve product aesthetics. Used in electronics, digital product processing and assembly, advertising, electronic road signs, bonding and fixing of LED boards; assembly of household appliances, fixing of metal sheet reinforcing ribs; anti-corrosion of long-distance oil and gas pipelines, aircraft manufacturing in the aerospace field And assembly. Automobiles: anti-scratch strips. bumpers. anti-collision plates. nameplates. signs. pedals, all kinds of cars. motorcycle nameplates and letters; car decoration strips. water guide strips. sealing strips. panels inside the car .Electrical shell, structural bonding and fixing of hardware; assembly of mirrors, weather shields, various panels and top plates.
Se você está interessado em nossos produtos, assine nosso e-mail