High Performance 3M 69 Glass Cloth Electrical Tape
xinst3月 25, 2020
3m 69 Insulating Silicone Adhesive Glass Cloth Electrical Tape is a white glass cloth tape with a hightemperature thermosetting silicone pressure-sensitive adhesive. high temperature resistance; Woven insulating glass cloth; high mechanical strength. Heat-stable insulation for furnace and oven controls, motor leads and switches.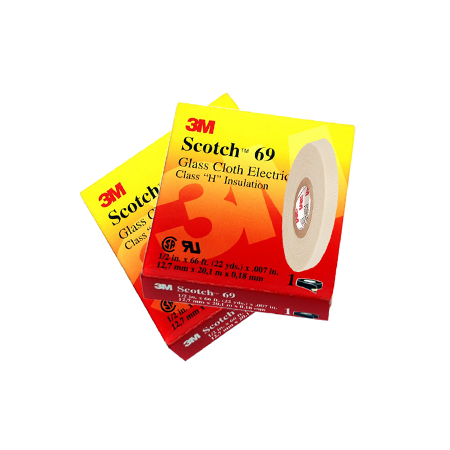 3M Glass Cloth Electrical Tape provides insulation and solvent-resistant protection for use as coil cover, anchor, banding and core, layer and
crossover insulation. This tape features a noncorrosive adhesive.
Insulating Silicone Adhesive Glass Cloth Electrical Tape

Applications:

1、Insulating electric and induction-type furnace power supply leads

2、Securing high-temperature, non-PSA insulation (such as asbestos and glass) in high-temperature areas

3、Securing Scotch® Fire Retardant Electric Arc Proofing Tape 77

4、 Splicing wire SF and SFF rated 302° F (150° C), 356° F (180° C)

5、 Reinsulating and repairing coils on mining machines

6、 Splicing silicone-covered glass wire where splices require more abrasion resistance and mechanical strength than can be provided by silicone tapes Insulating Class "H" dry-type transformer leads

7、Insulating splices made on SA type wire in heat treat areas

8、Especially suited to high-temperature applications

9、Used in a variety of coil/transformer and motor applications, including an outer wrap for bobbin wound coils, banding arbor wound coils, lead pad hold down, end turn and lead anchor and connection.

Adhesive Type:Silicone

model:3M 69

specification:19MM*20.1M

name:Glass Cloth Electrical Tape 69

Color:White

Product Type:Glass Cloth Tape

Total Tape Thickness :0.18mm
If you are interested in our products please subscribe to our mail